Metal spinning
Metal spinning is a kind of rotational cold metal forming in which the forming roller, fixed in the lathe carriage, presses out of a disk of sheet metal the required form of product that is given by a metal mandrel. The sheet metal is pressed by the pressure plate, clamped in the tailstock, onto the mandrel fastened on the face plate of the headstock. The sheet metal then turns round its axis and at the same time it is gradually pressed by the tool onto the mandrel. This results in the required deformation of the sheet metal that makes the final product.
We are one o the few companies in the Czech Republic that engages in metal spinning. Still, this procedure provides big savings in materials and costs and at the same time offers a high degree of drawing depth, as well as flexibility and operative management of manufacturing.
Our manufacture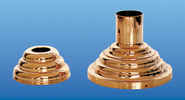 We can manufacture rotationally-symmetrical products up to a source sheet metal diameter of Ø 1000 mm – this refers to sheet-steel (including stainless) and aluminum sheets. Maximum thickness of sheet-steel is 2.5 mm, in aluminum it is 4 mm. 
The most frequently ordered products are suction branches, fan rotors, various vessels, covers, filters, lamps, wheel disks, etc.