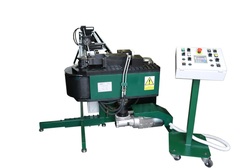 The electric tube bending machine XOTL 80 is, due to its programmable control and robust construction, designed for professional industrial manufacture. Through its concept it is suited for the needs of both piece and serial production. Thus, it is especially suited for users with variable manufacturing requirements.
The XOTL 60 enables the user to making precise and high-quality spatial cold tube bends. As its name suggests, it is designed for bending thin-walled and thick-walled steel tubes up to Ø 80 mm. It is also possible to bend square tubes, flat oval tubes, profiles, flat and square bars, when using atypical segments.
The control unit allows digital admeasurement and the selection of bend angle. You can also read precise lengths between individual bends. As with the XOTL 60, in the enhanced version of control unit, the bending machine may be equipped with accessories for electric lengthwise tube feed and electric chuck turning.
The bending machine is delivered either in basic design or with various accessories to enhance its usable properties. This feature enables the user to making up the bending machine exactly to the needs of their manufacturing processes. Thus, the user does not pay for not needed functions.
Bending Machine in Basic Design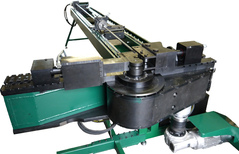 In the basic design, the bending machine XOTL 80 allows to bend thick-walled tubes with the proportion of external diameter to wall thickness lower than 12 ÷ 15.
It is supplied with the centering mandrel of segments Ø 55 mm and two pairs of universal rollers.
Also, the machine can be supplemented with series manufactured segments TR 20-80 mm with the diameter of bend 3D on tube axis, designed for bending thick-walled tubes.
Basic accessories

Machine frame with 3 fixed and 1 adjustable foot 
Transmission gearing with electric motor
Spindle head for driving bending segments
Guide of support rollers or sliding elements  
Electric control cabinet
Control console on separate mobile stand
Hydraulic arm and hydraulic unit
Rail  for mounting the additional equipment for positioning the tube to be bent and for fastening  mandrel 
Technical 
Parameters
Range of bent diameters [mm]

20 ÷ 80

Bending segments for tube diameters

[mm]

20

25

28 30

32 35
38

44

51

60

80

Atyp.
10÷80

["]

½

¾

 

1

1¼

1½

2

 
 

Bend diameters on tube axis [mm]

60

75

90

110

130

150

180

240

20÷260

Max. cross-section of bent materials

Dimensions w x l x h [mm]

1595 x 1144 x 1021

Weight [kg]

636

Input [kW]

2,6/ 3,1

Supply voltage [V]

400

Output speed [min-1]

0,81/1,61
Extra accessories extending the bending machine operating capabilities
Special accessory PZ 80
Type

Dimensions w x h x l [mm]

Weight [kg]

PZ 80/2

875 x 1350 x 2420

188

PZ 80/3

875 x 1350 x 3420

200

PZ 80/4

875 x 1350 x 4420

209

PZ 80/5

875 x 1350 x 5420

216

PZ 80/6

875 x 1350 x 6420

224
Accessories of segments for thin-walled tubes
Enable to clamp and bend thin-walled tubes with the proportion D/t > 15.
It is necessary to use a profile pair of rollers and a fixed or ball mandrel for each thin-walled tube to avoid its deformation.
Atypical segments
It is possible to deliver atypical segments outside series production, exactly designed according customer's requirements.
We also produce segments for bending square tubes, flat ovals, profiles and flat or square bars.
Digital length admeasurement
Length admeasurement is intended for measuring length between bends by means of linear magnetic admeasuring system located on the lengthwise frame of additional accessories PZ 60. The free end of the bent tube clamped in bending segment is, after slipping it over the additional accessory, fixed into three-jaw chuck. After finishing first bend, the scale is set to zero and the bent tube is drawn by the length value between the end of the first and the start of the next bend as specified in the drawing. The current value of tube displacement is digitally shown on control unit display.
Hydraulic equipment of tube bending machine
This equipment is designed to bending thin-walled tubes on small radii. It consists in equipping the tube bending machine with hydraulic unit and two hydraulic cylinders, of which one ensures the clamping of tube, the other serves the purpose of releasing the mandrel after finishing the bend. The delivery comprises also the holder of bronze smoothers, which ensures surface quality on inner curve of bent tube.
Hydraulic tube clamping in the chuck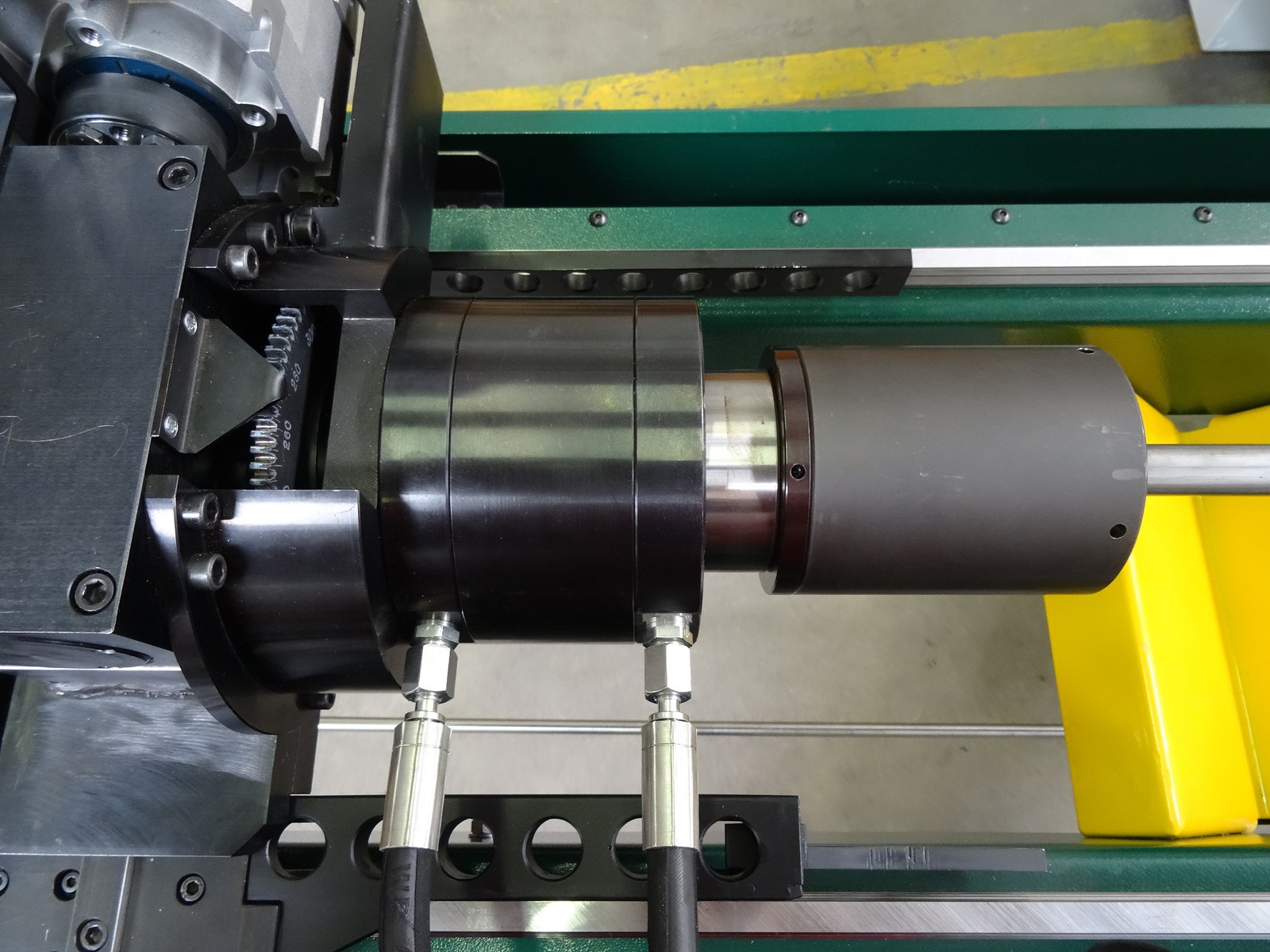 It allows quick clamping pipe ends in the chuck, herewith is the productivity of the tube bending machine increased. The basis of this accessories is hydraulic cylinder, which is connected to hydraulic unit of the tube bending machine.  For a determinate diameters of pipes are supplied exchangeable clamping head and the clamping jaws.
Special accessory for bending flat and square bars
The accessory allows the bending of flat and square bars on small radii.
Electric tube lengthwise feed
The carriage, on which the three-jaw chuck for tube clamping is fastened, is moved by asynchronous motor with feedback IRC sensor and bevel gear. The advance of carriage is driven by a chain embedded in plastic guide. The command to advance the carriage to a pre-set value is issued by the operator by pressing the respective button in the control console.
Electric turning of chuck
The turning of chuck by a desired angle is driven by asynchronous motor with feedback IRC sensor on the motor shaft, connected to bevel gear and worm drive. The command therefore is issued by the operator by pressing the respective button in the control console.